Headquarters Company 9th Marine Regiment 3rd Marine Division redeployed from the Republic of Vietnam to Camp Schwab Okinawa in August 1969, although this would not be their final chapter in history involving Vietnam. Hq Co 9th Marines would depart from the sea port in Da Nang South Vietnam on board the attack class transport USS Paul Revere (LPA-248) along with 2nd Battalion 9th Marines to its new location on Okinawa where 9th Marine Regiment would soon become part of the 9th MAB (9th Marine Amphibious Brigade) and begin forming contingency plans and training for the possible combat re-entry to Vietnam. The signing of the Paris Peace Accords in January 1973 between North Vietnam and the United States along with the 14 August 1973 congressional defunding all combat operations in Southeast Asia would eventually set the conditions that require the next mission involving Hq Co 9th Marines to that of rescue and evacuation of American and other foreign nationals from Southeast Asia.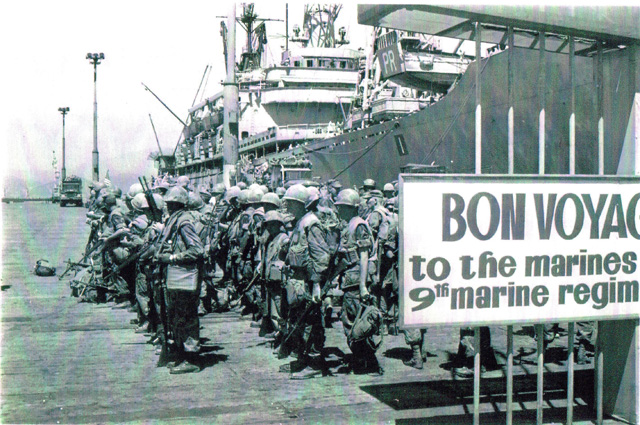 9th Marines Departing Da Nang RVN 1969 aboard USS Paul Revere
The 9th Marines were part of the first Marine re-deployments from Vietnam in the summer of 1969. In July 1969 the regiment begins with 1/9 redeployment to Camp Schwab, Okinawa followed by Hq Co 9th Marines along with 2/9 in August 1969, finally by 3/9 later that month all were reassigned in August 1969 to the 9th Marine Amphibious Brigade. The 9th MAB was then reassigned during November 1969 to the 3rd Marine Division (3 MarDiv).
Timeline for April and May 1975
The evacuation from Southeast Asia 1975 involved every service, below is a snap-shot of HqCo 9th Marines' role
12 April 1975 - Marines of the 9th MAB executed Operation Eagle Pull, the evacuation of American and other foreign nationals from Phnom Penh, Cambodia, just before the fall of the city to the Communist Cambodian Khmer Rouge. Due to shortages of some critical MOS' in 1/9 line companies, Bruce "Doc" Collison a FMF Corpsman with Hq Co 9th Marines along with other critical MOS' such as radiomen were assigned TAD (Temporary Assigned Duty) to these companies and boarded the USS HANCOCK (CVA-19) out of Subic Bay, Philippines to become part of Operation Eagle Pull. Marine "Doc" Collison would also participate in Operation Frequent Wind and was scheduled to again go TAD for rescue of SS Mayaguez crew from Koh Tang Island but at last minute he was pulled from that operation. Two other Marine/Doc's that served with him on Operation Eagle Pull and Operation Frequent Wind are remembered by "Doc" Collison, "…of paramount importance to me, is that the last Marines/docs killed in action during the war in Southeast Asia were from Golf and Echo 2/9. They paid the ultimate sacrifice two weeks after Saigon fell during the SS MAYAGUEZ/Battle of Koh Tang Island 15 May 75. "Doc" Collison recalls, two of those 41 lost were HN Ron Manning and HM1 Bernie Gause who were with me on EAGLE PULL & FREQUENT WIND, they were the last two Marine docs killed during the war and their names are among the last etched on "The Wall."
Excerpt Command Chronology July 1975